Connecting cities with citizens – touch is everything
By 2020, current statistics show that the number of connected devices worldwide will grow to 30 billion1. With the urban population growing year on year, metropolitan governments around the world are getting 'smarter' in an attempt to improve the lives of citizens and visitors as they move through the cities, increasing engagement via personal, portable electronic devices and "smart" street-level systems.
Managing life better – the future of cities
There are many ways that city planners are turning to smart, connected technologies to enhance, engage and connect with citizens:
• diverting passengers from a full train or bus to one that has seats
• alerting drivers to available car parking spaces and electric vehicle charging points
• informing waste management companies when bins or recycling points are nearing capacity
• detecting rising water levels in sewers and rivers and warning of potential flooding
• turning on, or increasing the brightness of streetlights during inclement weather
• detecting road traffic accidents and alerting emergency services
• redirecting traffic to avoid hazards and traffic jams
• informing visitors of the location of useful services such as hospitals, police stations or ATMs.
The opportunities are endless.
The increase in urban populations means that managing the requirements of citizens and tourists is crucial. People expect to be connected all the time and have instant access to information when travelling in and around cities, and expanding the digital experience can enhance the quality of city life. Touch screens have become the preeminent method in which people connect with technology. With more mobile phones in the world than people, we all take for granted the experience of connecting to the digital world through the screens on our portable devices. Central to the creation of smart cities that connect with its citizens, is taking that experience and upscaling it. Large format, reliable touch screens that operate all year round, in any location and weather condition, are providing this link.
Busy retail areas in Europe have seen an increase in super-sized "tablets" with large, touch sensors installed in the streets, offering interactive digital information to passers-by. The units are packed with familiar features including swipe, flick and pinch gestures, allowing intuitive navigation to access content. Built-in cameras can be used by the public for fun, but can also allow authorities to monitor the surroundings for problems. The large touch screens must function reliably in all weathers and be made from thick safety glass, ensuring vandal resistance.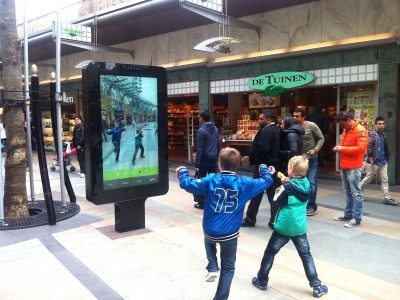 Image 1 – Surtronic Adapting cities – connecting digital and physical
Many cities are looking to the future and installing smart, digital street "furniture" such as way-finders and bus shelters, to improve city management and citizen engagement. Citybeacon™ terminals have been installed throughout the innovative Dutch city of Eindhoven, to help residents, visitors, businesses and local government engage with each other. Citybeacon bridges the gap between the digital and physical worlds at street-level using a cloud based management platform, to provide reliable connectivity and maximum flexibility via a reliable, all-weather touch screen.
This combination enables visitors and residents to access relevant information about the city and local businesses, and their surroundings. OCP Solutions B.V., who developed Citybeacon, decided upon rugged 32" Zytronic touch screens to provide a stable, low maintenance solution, capable of operating in a wide range of environmental conditions in a challenging, unattended public environment.
The Citybeacon incorporates NFC, RFID, and Bluetooth based payment technologies that link with mobile devices, allowing users to take advantage of local services such as parking. Two, large double sided displays at the top of the units share information such as public service announcements and local business promotions. Air quality sensors, UV detectors and cameras collect real time data, while energy saving smart lighting adjusts to current conditions.
Image 2 – Citybeacon
Any city, anywhere, any weather
Civic authorities in the Swedish city of Helsingborg decided to install an outdoor network of interactive digital totems to keep in touch with citizens, and help tourists find their way around. Importantly, the system also needed to work reliably in very cold Scandinavian winters with minimal post installation servicing.
Helsingborg chose Infinitus "imotion" G6 kiosks, equipped with a 47" Zytronic touch sensor. Rated to work reliably down to -40°C, well below the coldest recorded winter temperature in the city, the 2.000 nit super high bright touch screens are also designed to be readable in bright sunlight. The system is rugged and vandal resistant, and is protected with audio alarm and impact sensors. To increase audience engagement the G6 kiosks have an integrated Wi-Fi hot spot allowing passers-by to connect to the internet, and either transfer data, or download kiosk content, such as guides to their mobile phones and take with them as they walk around the city.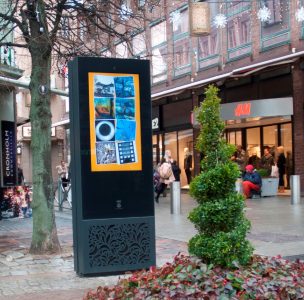 Image 3 – Infinitus
An example of a smart city initiative related to public transportation, saw Seoul's municipal government installing digital bus shelters across the South Korean capital. Each shelter was fitted with a 46" Zytronic touch screen to provide commuters with engaging, easy-to-access, real-time information about traffic, transit routes and local amenities. Again, the selection of the touch screen technology was made based on the necessity for a reliable, durable interface capable of delivering an excellent user experience in both hot, humid Seoul summers and freezing winters.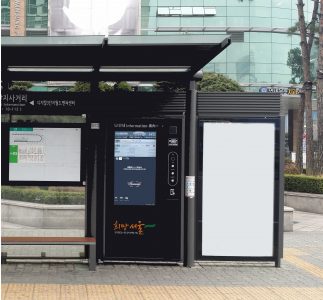 Image 4 – Seoul bus shelter
The proprietary, patented, projected capacitive touch technologies developed by Zytronic have proven their ability to be employed in the most uncompromising of environments, on many occasions and all over the globe. Companies manufacturing smart city terminals and digital street furniture rely upon its superior, all-weather performance that has been demonstrated in many applications over the last twenty years.
Conclusion
Cities are being driven to engage with their citizens in new ways, providing the "connected" experience they increasingly demand. By installing innovative infrastructure at street level, city planners can improve communications, services and the environment for the urban population. Touch screens are now an integral part of our everyday life. For successful deployment in public spaces, they must be as sensitive and reliable on the city streets as they are in your hand. For smart city projects to work, the connection between digital and physical must be dependable, 24 hours per day, seven days per week and 365 days of the year. Touch screen technology from Zytronic is designed to work precisely in these locations and environments, making it an invaluable tool in the quest to make cities smarter.
https://www.statista.com/statistics/471264/iot-number-of-connected-devices-worldwide/
Ian Crosby, Sales and Marketing Director, Zytronic